The What Matters Story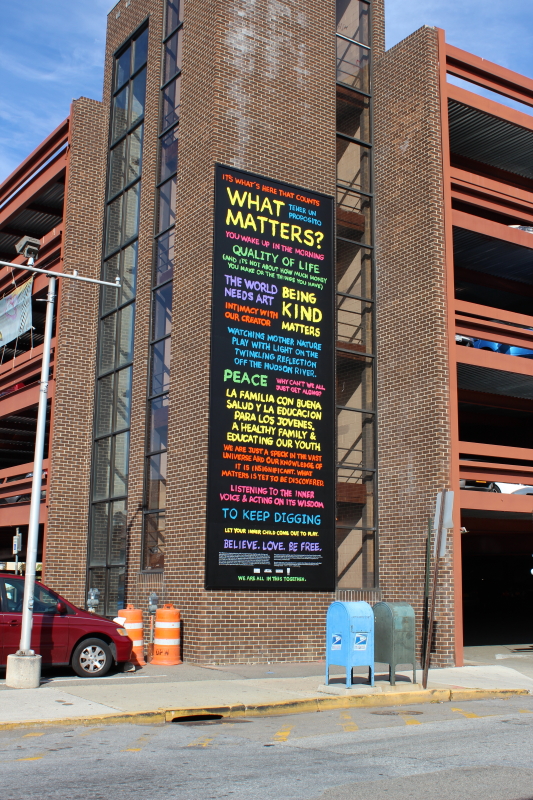 What matters to you?
I have been asking this question to people of all ages, backgrounds, and walks of life since the project was first conceived in 2011. The What Matters project humbly started at the Peekskill Youth Bureau as sidewalk writing on Main Street and has now reached over 11,000 diverse people among 100 events, workshops, exhibitions and performances. The project has been in public spaces, schools and community centers throughout Peekskill, Ossining, Yonkers, and the Bronx, New York. Over the last two years, an award from the National Endowment for the Arts supported in part, seven free public arts programs successfully bringing the community together to explore what matters through words, images, music, movement, and drama. Through exploring our common humanity we found our connectedness to each other, breaking down barriers of perceived separation in our community and society at large. At the outset of our NEA proposal, we aimed to reach the multicultural population of our region including those who might not have ready access to the arts including the underprivileged, seniors, at-risk youth, African-Americans, Latin-Americans, immigrants and many more. The aim of the project is to unify people bringing them together in a shared art experience.
Now more than ever as our world seems to be in chaos with wars, refugee migrations, hurricanes, fires, socio-economic inequality and escalating tragic effects of global warming. This question could not be more ever-present. How are we going to live differently to make life better for all humans, all of life on our planet? As one person, walking under the What Matters mural in downtown Peekskill said: "What matters? The planet. A good planet is hard to find".
The arts have a powerful way of connecting and inspiring our hearts amidst the greatest adversity. Please support the arts in any way you can and write to your politicians to continue funding programs like this.
I want to thank you, our participants, audience members, supporters and dedicated teaching artists; and the cultural organizations, Embark Peekskill, New Era Creative Space and the Hudson Valley Center for Contemporary Art who generously collaborated to make these invaluable experiences come to life. We are truly one community, the whole of life.
About the Mural
As an artist I wish to create public art that will affect people's everyday lives in surprising and unexpected ways. Together with the community we created a 28 x 10 feet mural that dons the wall of Park Street Garage in the heart of downtown Peekskill. The mural is the culmination of over a year of gathering phrases from the public to share "what matters". The mural transcribes some of the most universal and compelling words people have shared in both English and Spanish. People of any age, background or culture are invited to write a few words about what matters to them. My objective is to give those who may not normally have an opportunity to express themselves a chance to contemplate what they find meaningful in life. This is an opportunity to take pause from the pressures of the day to focus on a larger view of life. In doing so the participants enrich their own existence for a moment and in turn enrich a moment for another person who will read what they have written.
Several thousand people from all walks of life have gathered to share What Matters. A mural of a selection of the phrases was painted by 88 people ages 4 to 80+. In these challenging times may the mural serve as a beacon of hope. Life has a way of going up, down and sideways—may you find peace and gratitude in whatever experience unfolds. May you find for yourself what matters.

I hope you will journey to see the mural and share your thoughts with me. The best viewing spot is at 1045 Park St. in front of the DMV building between Bank St. and South James St. in the downtown, Peekskill, NY.


"WHAT MATTERS? shows the power the Arts have in creating Community. Her vision, work, tenacity and engagement of the Community will be among the most inspiring moments I have witnessed from another Artist. THANK YOU, Lana!!! Come to Park St, Peekskill to check it out & be Inspired!"
–Sol Miranda, Actress, Co-founder, Embark Peekskill
####################
####################


Photos of this on-going socially-engaged art project

Upcoming What Matters Programs, Free Workshops (PDF)


What Matters featured in ArtsNews
Page 2 of PDF

Give and Get a Better World
How to sponsor or donate to What Matters game-changing programming for all people